Main: 818-566-8769 Tech: 626-676-3421
HD-VU™ for Macintosh
Use HD-VU™ to instantly preview clips in original form. This 'all-in-one' player is a great tool to check copies or source material without transcoding or modifying them. HD-VU™ works with a number of media formats including QuickTime, MPEG, AVI files and camera originals such as Canon EOS & XF, Panasonic P2 & AVCCAM, JVC HCSD, SxS & SxS Pro, RED ONE, Sony XDCam EX & AVCHD, Arri Alexa and more.
P2 Log Pro™ for Macintosh
View P2 Media
Instantly display DVCProHD or AVC-Intra P2 (MXF) video with thumbnails, metadata, and links to the video clips.
Use The Metadata
Change "User Clip Names", auto-fill text, add descriptions, or delete unwanted clips. Search the XML metadata of multiple P2 Volumes and merge resulting clips into a new P2 Volume.
Clip Repair Wizard
Help recover damaged P2 Volumes by locating and repairing errant MXF video files one-by-one.
Print An Index
Choose between two different styles with text and thumbnails to keep a paper index of clip files.
Export to Final Cut Pro
Create FCP XML files including converted, ready-to-edit QuickTime clips in DVCProHD or selectable system codec (e.g. ProRes). Map metadata fields to FCP fields, for example "User Clip Name" to FCP's "Name".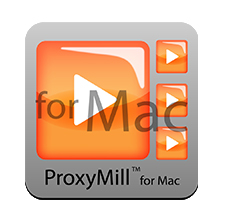 ProxyMill™ for Macintosh
ProxyMill's new user interface and powerful multi-core, 64-bit processing is easier and faster than ever. This simple-to-use tool saves time. Directly convert any HD media, such as Canon 5D/7D, Panasonic P2 or AVCHD, Sony XDCam, GoProHD, even DPX files into sharable movie files in one step. Just select the media type to watch for, or Drag and Drop HD volumes into the queue.
Use any of the default Presets or create your own. Up-res to ProRes for editing, or compress with burn-in timecode, watermarks, or text. Merge or stitch files into one master--manually or automatically. Make audio-only files for transcription services.
Use ProxyMill's new built-in 'LUT Sync' app to apply color-correction to proxies for client review.
ShotPut Pro™ for Macintosh
ShotPut Pro™ for Macintosh is an automated copy utility application for HD video and photo files. ShotPut Pro is the industry de-facto standard offloading application for professionals. The simple user interface and robust copy speeds make it indispensable for todays tapeless HD workflows.
ShotPut Pro™ for Windows
Faster and more powerful than ever, ShotPut Pro™ is the industry de-facto standard offloading application for professionals. The simple user interface and robust copy speeds make it indispensable for todays tapeless HD workflows.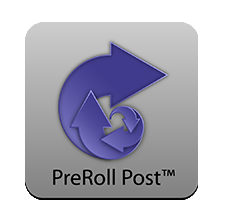 PreRollPost™ for Macintosh
PreRollPost™ is an application that automates indexing your camera originals, complete with thumbs, proxies and metadata, while backing up full resolution media to local disk and long-term LTO-5 or LTO-6 tape.
PreRollPost takes advantage of the Linear File Transfer System (LTFS) supported by tape drive manufacturers. The LTFS mounts a tape as a volume (hard disk) within OSX. This makes it possible to write and read from the tape as if it were a disk without proprietary software or formatting. It also makes PreRollPost hardware independent—you can use it with any LTFS compliant tape drive.
The PreRollPost Archiver Macintosh software controls copy operations from field hard disks (created using ShotPut Pro™) onto LTO-5 or LTO-6 tape. You may choose to make an additional copy onto local hard disk at the same time. All copies are verified using MD5 checksum integrity algorithms.
UP™ for Macintosh
UP™ for Macintosh is a Metadata Uploader specifically designed for use with Panasonic AVCCAM and P2 cameras (e.g. AF-100s, HVX-170s, etc.).
With the UP application, metadata for anticipated shots may be created, edited, and pre-loaded into the camera via a SD card. In the camera, select clip naming and information as needed during shooting.
Pre-loading metadata has the convenience of automatically filling certain data fields (such as Creator, Program Name, Place Name, etc.). These may be repeating or non-repeating clip-by-clip. The resulting clip information will be included into the video volumes as they're recorded in the camera. Such metadata is then archived as part of the media and will be available with viewers and editors, etc.
Email : Bill@b2services-inc.com | Phone : 818-566-8769
© 2015 B2 Services Inc. All Rights Reserved