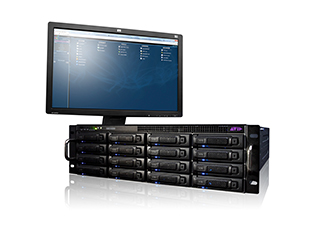 Avid ISIS 5000
Shared storage
ISIS® 5000 is an advanced, real-time shared media storage system that addresses a wide range of shared storage applications for post production, broadcast, education, and corporate applications. Designed for media facilities and workgroups requiring up to 144 TB usable capacity and/or up to 90 client connections, ISIS 5000 utilizes the industry's leading and most trusted storage software technology to deliver stable operation, high performance media access, and unmatched value.
ISIS 5000 fully supports Avid® Media Composer®, NewsCutter®, Symphony™, DS, Pro Tools|HD 10 editing systems, and Interplay workgroups as well as Apple Final Cut Pro and Adobe Premiere CS 6 editors. Based on proven technology from the leader in shared media storage and backed by the most rigorous real-time performance and workflow verification, ISIS 5000 provides a solid foundation for dynamic content creation.
ISIS performance
Avid ISIS 7000 (formerly Avid Unity™ ISIS) broke new ground for highly-scalable performance, capacity, and connectivity. Today, ISIS File System software supports intensive, round-the-clock media production at major broadcast and production facilities worldwide. Based on that software, ISIS 5000 provides reliable, real-time quality of service, self-balancing data architecture, and predictable linear bandwidth scalability. FlexDrive, the flexible and dynamically scalable storage workspace technology pioneered by Avid, ensures your ability to respond to ongoing changes and opportunity.
Greater collaboration
ISIS 5000 adjusts to your business needs instead of requiring
you to work around storage limitations. Scalable storage and
flexible workspaces let you consolidate workflow islands into
connected, fast-moving workgroups. The ability to adjust
workspace capacity on the fly and quick user and system
administration saves time and increases productivity. ISIS 5000
qualification with Avid Interplay and AirSpeed® 5000 and
AirSpeed Multi Stream servers brings the full power and
productivity of Avid workflow to a wider range of broadcast, post
production, and education production groups than ever before.